Check out Pragmatic's new Crash game Spaceman.
High RTP(96.5%), up to 5000х multiplier and the chance to win up to 500,000 USD
Spaceman, Pragmatic's brand-new crash game, is finally live! This highly anticipated crash game has been a topic of discussion among crash & mini-game lovers for quite some time as it is the very first crash game by Pragmatic Play. Released on March 24th, 2022, Spaceman looks amazingly promising and has a lot to offer. Keep reading to find out more.
Play Spaceman Demo Version For Free Here !
Overview
Thanks to the wonderful Pragmatic Play, you can now freely enjoy this brand-new, unique crash game with an impressively high RTP of 96.5% and numerous extraordinary features. The hype around Spaceman is completely justified as players get to go on an adrenaline-filled and exciting flight, where longer travels result in higher multipliers. With a whopping 5000x multiplier, 50% Cashout feature, and a chance to win up to 500,000$, Spaceman really stands out from other crash games and proves to be out of the earth.
As you can easily guess from the name, the game's main character is a quirky and funny Spaceman who takes you back to your childhood dreams by bringing you all the magic associated with space and a colorful galaxy. The objective of the game is to help Spaceman fly as high as possible to get bigger prizes. As you start playing the game, the first thing you see is a cute Spaceman waving at you. Spaceman is surrounded by planets, stars, and falling asteroids, making this crash game that much more authentic and visually pleasing. These fascinating visual effects perfectly correspond with the content and amazing sound mixing, creating a relaxing and aesthetically attractive gaming atmosphere.
Spaceman appeals to those who value good gameplay that has both conventional and innovative elements to it. Despite the fact that Spaceman is a brand-new title, this real-time, decision-making crash game has already managed to gain a great reputation for its amazing features and highly engaging potential.
Spaceman is now available for all operators that offer Pragmatic Play's live casino games on all devices – mobile and desktop versions.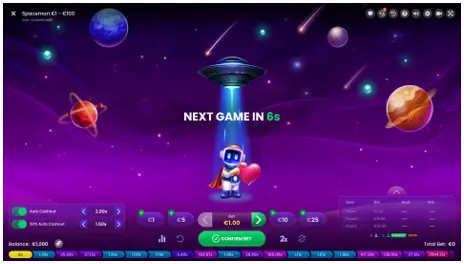 How Spaceman Game Works
The game starts with the main character, Spaceman, standing in the middle of the panel, getting ready to be launched into the sky.
In order to start playing, players should pick the base bet from £/€1 up to £/€100 per round. There are also options for auto-cashout or 50% auto-cashout from 1.01x to 4,999.99x. As soon as players set their bets, the cute interstellar astronaut begins the journey on an increasingly steep curve with a probability of crashing at any time. Players should attempt to cashout before Spaceman's intergalactic journey come to an inevitable crash. As soon as the new round starts, cashout and cashout 50% buttons appear on the screen. If a player hits either of these buttons before the crash happens, they get a prize.
The main question for the game is – exactly how high can the Spaceman fly? The answer to this question somewhat depends on a player itself, as only they have the right to make a cashout. In case a player decides to try their luck and don't press the cashout button just yet, then the question turns into the thrilling show, where players are encouraged to shoot for the stars in this colorful, crash-inspired quest.
Pressing a cashout button makes a player leave the game with their prize, while cashout 50% leaves the player for the next round with a 50% amount of their win. If the Spaceman crushes before the player makes cashout, they lose the round. The maximum possible win for Spaceman is 500,000$.
The longer a player waits to press the cashout button, the higher the chances of winning bigger prizes are. There is also a feature of auto-cashout, which can be used in case a player doesn't want to press cashout buttons. This can be managed from presets.
Your own temptation can decide the outcome of the game. For example, once you reach an important level of 2000x, it's getting tricky to decide whether to cashout or keep playing. Maybe you are close to winning even bigger prizes, or maybe it's high time you stopped and grabbed your winnings.
---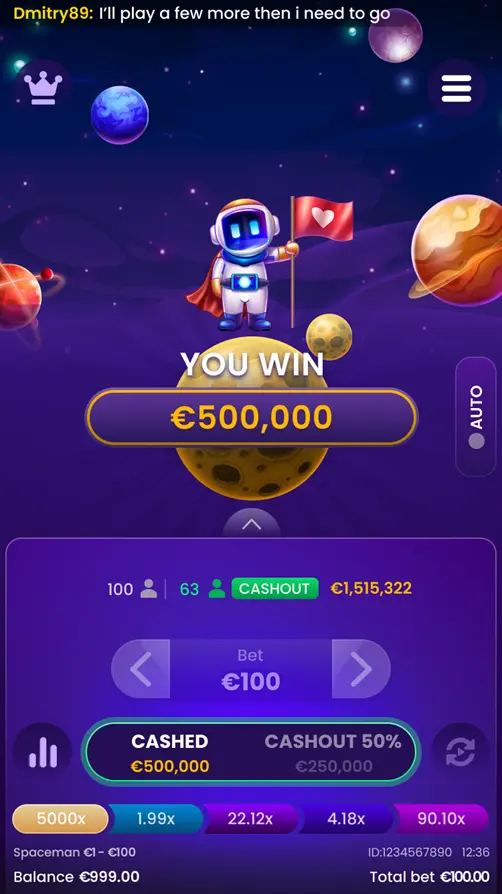 Key Features
Multiplayer crash game
chance to win up to 500,000€
Engaging Gameplay
Cashout 50% Feature;
Multilingual;
RTP 96.5%
All Device Compatibility
Game Concept
Pragmatic Play is driving differentiation by introducing a brand-new, stunning Crash game with highly interactive features and an engaging, vibrant color scheme.
Unlike other mini-games, Spaceman is based on real-time, decision-making gameplay with no artificial volatility.
Up to a 5000x multiplier and the chance to win up to 500,000$.
Benefits for Operators
Immersive multiplayer game with wonderful engagement features such as chat & leaderboards
Increased product diversity
Better acquisition through a popular new game type with unique features
Intuitive game-flow, bet-ready interface, and promising payouts boosting engagement and retention
KEY FEATURES
Multiplayer game
Unique to the market "50% Cashout" feature
The 50% Cashout feature allows players to secure their winnings for half their bet and proceed with the remaining funds towards higher but riskier rewards
The optimal Return To Player (RTP) is 96.50%
Engaging game flow with outstanding graphics and sound design
Operating 24/7
Multilingual
Powered by HTML5, available on both desktop and mobile
BENEFITS FOR PLAYERS
Speedy outcomes
Up to a 5000x multiplier and the chance to win up to 500,000$
Ability to apply individual strategies using Auto-Cashouts and Autoplay
A highly social atmosphere with Leaderboard showing actual stakes and wins
Live Chat
Detailed bet history & statistics
Provably fair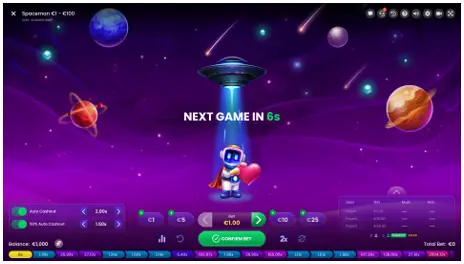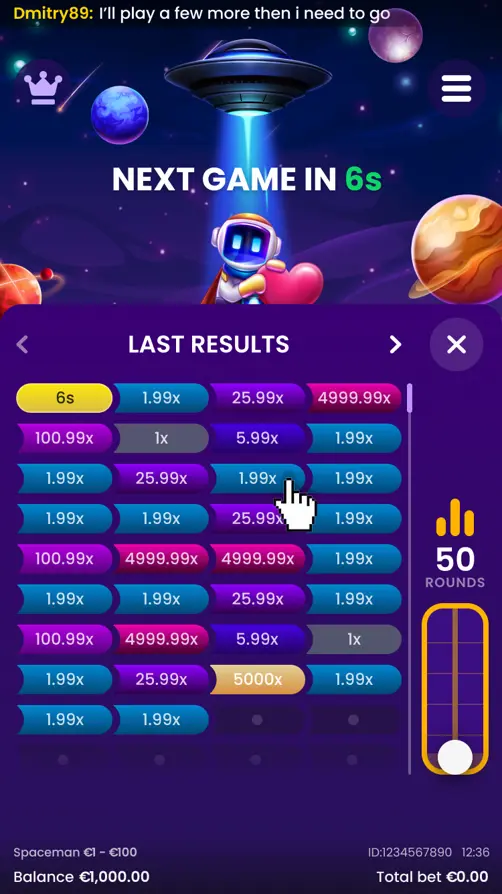 ADVANCED STATISTICS
Up to 500 last results with details on each round
Charts with result distribution
PROVABLY FAIR
Provably fair mechanics deliver encrypted game results to round details at the beginning of each new round.
As soon as the round ends, the original string with the encrypted result is revealed so the player can encrypt it themselves with SHA-256 algorithm on a trusted source to ensure both strings are equal.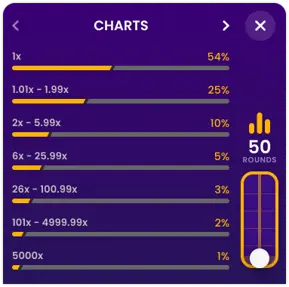 Can I play Spaceman slot on mobile?
Yes, Spaceman pragmatic play is a mobile-friendly game, enjoy playing on any device you want.
Where can I play Spaceman slot?
Spaceman slot game is available on any online casino where Pragmatic Play games are presented! Check our favorite online casinos to play!
Is it safe to play a Spaceman slot?
Absolutely! It's a certified game and is safe to play.
Can I play Spaceman pragmatic slot in Bitcoin?
Yes, you can play Spaceman in Bitcoins once you register at an online casino accepting bitcoin deposits. Check out our favorite casinos that accept Bitcoins to find the best for you.
How can I win playing Spaceman?
As Spaceman is a certified slot game, there are no rules to win it. all you need is luck.